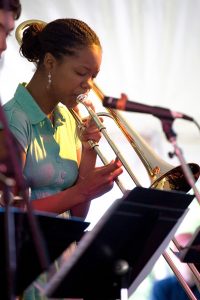 Students do a lot of playing at Litchfield Jazz Camp – rehearsing with combos, playing in jam sessions, and performing.  At the end of each session students give a concert for their family and friends at the Gunnery School, and at the end of a month of camp, all students are invited to perform on a dedicated second stage at the critically acclaimed Litchfield Jazz Festival.
Additional performance opportunities may be available as select Litchfield Jazz Camp students perform in the community in participating Connecticut restaurants and for other community events.
STUDENT CONCERT SCHEDULE 2018*
Session 1: Friday, July 6, 6:30PM
Session 2: Friday, July 13, 6:30PM
Session 3: Friday, July 20, 6:30PM
Session 4: Friday, July 27, 6:30PM
*Times subject to change
Photo by Antonio Monteiro.
Admission to these concerts is free, and no tickets are necessary.  If parents would like to take their students out for dinner before the concert(s) they may do so between 5 and 6:15pm. Please note that all students must be checked out by a Jazz Camp staff member before they are allowed to leave the premises. Please have students back to campus by 6:15. These concerts are an exciting culmination of each camp week, and participation by every student is required. Student concerts generally end by 9:30 and students are encouraged to stay for the whole concert to support their fellow students. During the week you will be able to login to your online account and download a concert schedule to see when and where each camper will be performing.