The Electives Program provides opportunity for you to explore additional aspects of jazz and music performance. You may choose any of the elective classes, but are strongly encouraged to stick with one during the week, to maximize progress.
Note: Not all electives are given every week. See the Electives Schedule (posted during camp) for offerings in a given week.
Fitness and Sports Electives
The physical demands of playing jazz—and the rigors of the road for professionals—demand a unique degree of fitness.The Gunnery campus will allow us to offer electives in swimming, yoga, running supervised by marathoners, soccer, basketball and more.

Composition Workshop (All Sessions)
An interactive, hands on workshop exploring various non-traditional approaches to composing and arranging. Students will connect to methods and techniques forged by notable and established "Downtown" composer/improvisers. The approach to composing and arranging emerged in the mid 80's into the 90's and coalesced around a group of players broadly associated with the now legendary downtown Manhattan venue – The Knitting Factory.  The style came to be a major influence on much of today's music scene. The course will explore the works of Mario Pavone, Steven Bernstein, Marty Ehrlich, the late Thomas Chapin and others. Students will be encouraged to construct pieces, which will be explored by the workshop ensemble and performed at weeks end.
Instructors: Mario Pavone, Russ Johnson, Dave Ballou
Guest Artist (During Camp)
In addition to daily master classes (see core courses), LJC brings guest artists in throughout the camp for a day at a time.  The artist will float during combo rehearsals and then give a workshop for all students that afternoon.  This is always a major highlight for students and resident faculty alike.  Click here to watch a video of Dave Liebman performing during his workshop from 2009.
Festival Artist Talks (Festival Weekend)
The Festival takes place at the end of Session 4 and provides fantastic opportunities for camp students, including listening to the world class talent on the main stage, performing on the dedicated student stage AND attending artist talks under the student tent on Saturday, August 8th and Sunday, August 9th. Moderated by DownBeat publisher Frank Alkyer, these talks offer a rare insight into lives and artistic practices of Festival stars. Artists that have been recently interviewed are Roy Harper, Dave Brubeck, Jane Bunnett, Donny McCaslin and Paquito D'Rivera.
---
DAILY ELECTIVES:
Subject to change!
COLLEGE PREP SEMINAR (SELECT WEEKS)
Teaching Artist Doug Munro offers a College Prep Seminar. Doug, who is a Professor of Music at SUNY Purchase and founder of their Jazz Program, will offer an insider's perspective on what to expect from a college-level program. This seminar will prepare students for higher education, whether it be at conservatory or a university music program. Topics covered include how to prepare for a taped or live audition, how to determine which school is right for you, and how to navigate the application process. Perfect for students headed to college next fall, those just beginning the college search, and even those younger who just want to get a jump on the process.
PIANO FOR THE NON-PIANIST (ALL SESSIONS)
This class presents basic piano scales, chord voicings and basic chord progressions via a "hands-on" approach, literally! There are at least four keyboards in the classroom, and the instructors give specific directions and drills each day.
R&B ENSEMBLE (ALL SESSIONS)
Students in this ensemble will get a detailed look into the genre of Rhythm and Blues from the 1960's onwards. Includes instrumental and vocal selections. Music covered ranges from Earth, Wind, & Fire, Chuck Berry, to modern artist such as D'Angelo.
LISTENING TO JAZZ (ALL SESSIONS)
The most important way to learn how to play Jazz is to listen. In this class, each day we listen to different recordings of the jazz genre. We learn how to discuss what we've heard, how to identify it and how to find more music we like. Students are encouraged to bring and share their favorite albums and songs!
BEGINNING COMPOSITION (SELECT WEEKS)
This class will teach students the first steps to composing. No prior knowledge of composition or music theory is required for this class. All students are welcome to come learn how to write music
EAR TRAINING FOR BEGINNERS (ALL SESSIONS)
Even though the core classes have an ear training component, this class emphasizes basic techniques and tactics for identifying basic musical elements (intervals, scales, chords, rhythms) by ear.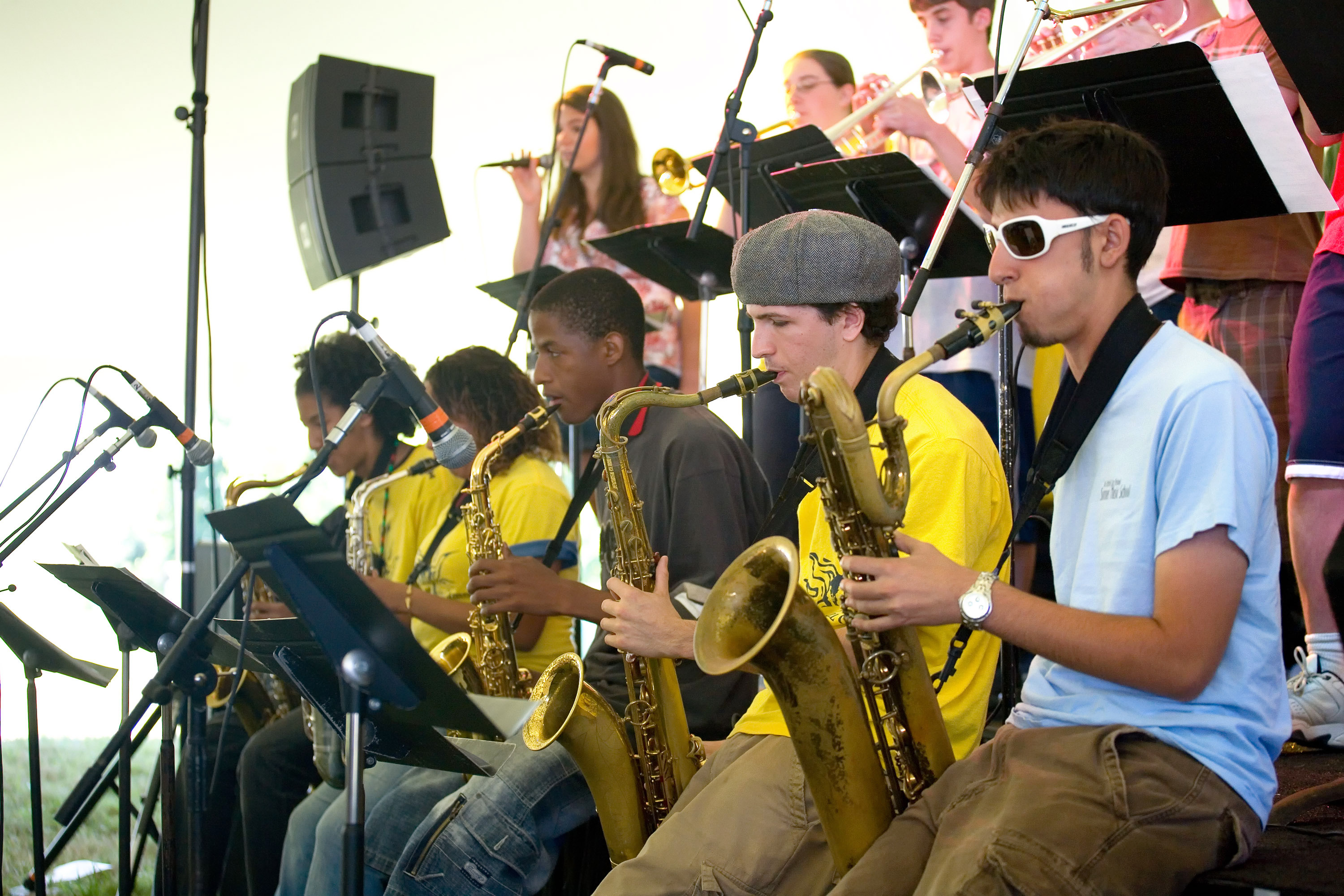 BIG BAND – (SELECT WEEKS)
This group focuses on the basics of big band performance. This group typically will play a piece during the weekly student concert and, if possible, at the Litchfield Jazz Festival.
LATIN JAZZ ENSEMBLE (SELECT WEEKS)
This ensemble will work on learning repertoire and basic skills related to classic latin jazz, specifically mambo and afro-cuban jazz. All instruments are welcome.
DRUMS FOR NON DRUMMERS – (SELECT WEEKS)
This class presents basic drum skills and techniques for the musician that wants to begin learning the drumset. Practice drum pads and drum sticks will be provided.
---
Optional Private Lessons
Students have the option to take a half-hour private lesson (for an additional fee) while at camp.  This is limited to two lessons a week.  If there are open lesson times after everyone who would like to take a lesson is scheduled, you may sign up for additional lessons.  This is a great chance to work one on one with our amazing faculty, solidify what you're learning in ensemble, theory and master classes, and give you plenty to practice as you continue. Students must sign up for lessons at time of registration.
Evening Activities & Concerts 
Evenings at Litchfield Jazz Camp are filled with concerts and jam sessions.  Each week the faculty performs. After the concerts there are student jam sessions (broken down by level), which is a great time to play with other students in a less structured setting.  If you play more than one instrument feel free to bring them all to jam sessions.
Boot Camp for Jazz Musicians
(Weeks 3 and 4) Want to keep in shape?  Join bassist Avery Sharpe from 7:00 – 7:40 am for "Boot Camp for Jazz Musicians," a daily program of strength training and aerobics.