Alumni News
Our campers have gone on to form their own bands and play with greats like Herbie Hancock,  Pat Metheny, Gary Burton, Cyrus Chestnut, Winard Harper, Eddie Palmieri and so many others!
Are you a Litchfield Jazz Camp Alum? Have exciting news? Win an award? Get into college? Send your updates to info@litchfieldjazzfest.com so we can let everyone know the wonderful achievements of our talented alumni.
9/16/2013 LJC Alumus, saxophonist Godwin Louis,wins 3rd place and a $10,000 scholarships in the 2013 Thelonius Monk Saxophone compeition.  Read more here.
10/16/2012 LJC Alum and faculty member, Caroline Davis was featured in an article by the Chicago Reader. She discusses her first experiences as a camper at the Litchfield Jazz Camp. Read the full article here!
9/20/2012 Alumna and vocal teacher Nicole Zuraitis has just launched a Kickstarter campaign for her new CD. Watch the great video about the project (recorded by LJC alumnus Andrei Matorin) and pledge if you can.
9/15/2012 Drummer Oscar Suchanek (LJC 2011) was named one of the semi-finalists in the 2012 Thelonius Monk international Drum competition.
9/14/2011 Alum Emmet Cohen is a finalist in the 2011 Thelonius Monk international jazz piano competition.
9/26/2010 Vocalist and recent LJC alum Dana Lauren has been named a semi-finalist in the 2010 Thelonius Monk international Jazz Vocalist competition.
9/25/2009 Bassist and LJC Student Daryl Johns is a semi finalist at the 2009 Thelonius Monk international Jazz Bass competition.
---

Richie Barshay (Drums)
Attended Litchfield Jazz Camp – 1998
Percussionist Richie Barshay, most noted for his work with the Herbie Hancock Quartet, has established himself as a prominent musical voice of his generation and is regarded as "a player to watch" by JazzTimes magazine. On tour and on recordings his eclectic resume so far includes Hancock, Chick Corea, Esperanza Spalding, Lee Konitz, The Klezmatics, Fred Hersch, Kenny Werner (whom he played with on the Litchfield Jazz Festival in 2008), Natalie Merchant, David Krakauer, Fred Wesley, Claudia Acuña and Pete Seeger among others. In 2004 he was named an American Musical Envoy by the U.S. State Department for outreach tours in Asia, South America, and Europe. Now based in New York City, Richie began playing Jazz and Afro-Carribean music during his youth and has expanded his focus to Indian rhythmic concepts and tabla, inspiring his 2007 recording debut Homework on Ayva Records. "Homework introduces a major rhythm voice on the rise" says Downbeat magazine, and The Guardian (UK) praises "the arrival of a major innovator who also knows how to have fun."
---
Lakecia Benjamin (Saxophone)
Attended Litchfield Jazz Camp – 2000, 2001, 2002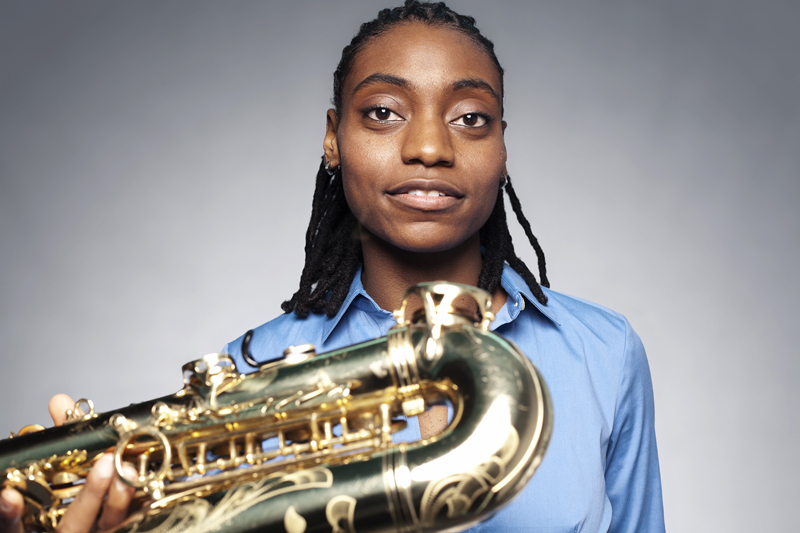 A streetwise New York City native born and raised in Washington Heights, Lakecia Benjamin has become one of the most highly sought-after players in soul and funk music. She first picked up the saxophone at Fiorello LaGuardia High School for the Performing Arts, after which she joined the renowned jazz program at New York's New School University. By that time she was already playing with renowned jazz figures like Clark Terry and Reggie Workman, which led to gigs and tours with a wide array of artists such as Rashied Ali, the David Murray Big Band, Vanessa Rubin and James "Blood" Ulmer. With her deep jazz roots, she was soon in demand as an arranger and horn section leader, landing stints with such acclaimed artists as Stevie Wonder, Alicia Keys, Macy Gray, the Roots, and Anita Baker.
Currently, Benjamin is a featured musician and arranger for comedy star Craig Robinson and the Nasty Delicious. (Robinson, best known for his work on TV's The Office as well as such popular films as Pineapple Express and Hot Tub Time Machine, tours regularly with the Nasty Delicious band serving as the main foil in his popular comedy act). Benjamin has also had the honor of performing at the White House at President Obama's inaugural ball. She's performed on four continents and her extensive recording credits include saxophone and arrangements for Santigold, Maurice Brown, the Clark Terry Big Band, Krystle Warren and Talib Kweli, among others.
http://www.lakeciabenjamin.com/
---
Zaccai Curtis (Piano)
Attended Litchfield Jazz Camp – 1997, 1998, 1999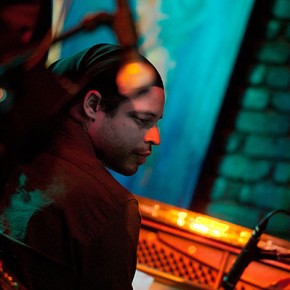 After graduating from New England Conservatory in 2005, Zaccai Curtis moved to New York City where he performs with artists such as: Ralph Peterson, Brian Lynch, Ray Vega, Antoine Roney, Wallace Roney,Cindy Blackman, Jerry Gonzalez and the Fort Apache Band, Papo Vasquez, and Donald Harrison.
Zaccai Curtis composes and arranges for his own quartet, trio, solo piano works, Big-Band, Orchestra, as well as large and small ensembles with strings. In 2001 he was commissioned to arrange Rimsky-Korsakov's "Capriccio Espagnol" to be performed by his 7 piece latin jazz ensemble 'insight' with the Hartford Symphony Chamber Orchestra. In 2003 he was chosen as a winner of the ASCAP Young Jazz Composer's competition and each year consecutively through 2006. Zaccai and his quartet were selected by the U.S. State Department to be in the American Music Abroad (Jazz Ambassadors) program two times in 2006. They performed in Bangladesh, Calcutta, Bangalore, Mumbai, Sri Lanka and Maldives. In 2007, Zaccai was awarded the 'Connecticut Commission on Culture and Tourism's Artist Fellowship' for original composition.
---
Luques Curtis (Bass)
Attended Litchfield Jazz Camp – 1997, 1998, 1999, 2000, 2001, 2002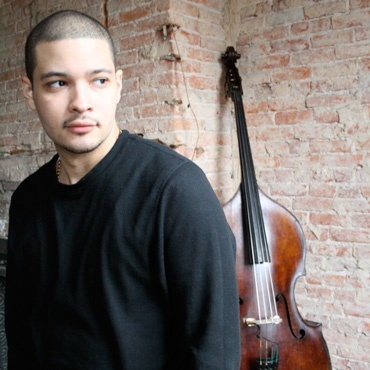 Luques Curtis was born August 17,1983 in Hartford, CT. After having formal training on piano and percussion, he found himself wanting to play the bass. Luques studied at the Greater Hartford Academy of Performing Arts, Artist Collective, and Guakia with Dave Santoro, Volcan Orham, Nat Reeves, Paul Brown, and others. After high school, he planned to pursue his music career by going to college in Boston. With his talent and hard work he earned a full scholarship to the prestigious Berklee College Of Music. There he studied with John Lockwood and Ron Mahdi. While in Boston, he was also able to work with great musicians such as Gary Burton, Ralph Peterson, Donald Harrison, Christian Scott, and Francisco Mela. Luques was also working with his brother Zaccai, and formed a group called Insight.
Now living in New York City Luques has been performing nationally and internationally with artists such as, Eddie Palmieri, Brian Lynch, Ralph Peterson, Christian Scott, Sean Jones, Gary Burton, Stefon Harris, Donald Harrison, Etienne Charles, Albert Rivera, Elio Villafranca, Francisco Mela, and others. He has recently released an album with his brother called "Blood,Spirit,Land,Water,Freedom" on Truth Revolution Records. Luques was also part of Brian Lynch's Grammy winning CD "Simpatico". You can hear him on Gary Burton's CD "Next Generations"; Dave Valentin's "Come Fly With Me"; Sean Jones' "Roots","Kaleidoscope",and "The Search Within"; Christian Scott's CD "Rewind That", and "Anthem"; Albert Rivera's CD "Re-Introduction"; Etienne Charles' CD "Folklore".
---
Emmet Cohen (Piano)
Attended Litchfield Jazz Camp – 2006, 2007, 2008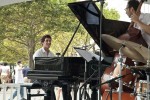 At 22, jazz pianist Emmet Cohen, a finalist in the 2011 Thelonious Monk International Piano Competition, plays with the maturity and confidence of a seasoned veteran. With astonishing technique and an innovative harmonic palate, Emmet engenders a deep musical bond with his audience. Cohen has shared the bandstand with a plethora of musical  luminaries, including Christian McBride, Benny Golson, Joshua Redman, Dave Holland, Patti Austin, Maceo Parker, Carmen Bradford, Billy Hart, and many others. He holds a bachelors in music from the University of Miami where he studied with Brian Lynch, Terence Blanchard, Shelly Berg, and Martin Bejerano. He is currently a Masters Student at the Manhattan School of Music. Emmet regularly appears as a sideman and leader on both piano and Hammond B3 Organ in New York and Miami.  Emmet appeared with his trio (including LJF alumnus drummer Evan Sherman) on the Litchfield Jazz Festival in 2013.
---
Caroline Davis (Saxophone)
Attended Litchfield Jazz Camp – 2000, 2001, 2002, 2003, 2004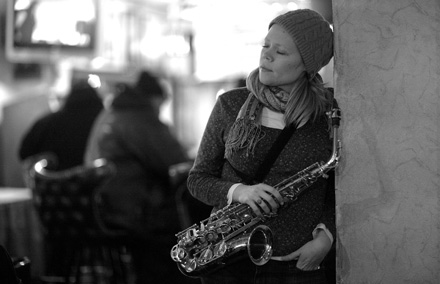 Caroline Davis had been a saxophonist for nearly 20 years before she decided to focus her energies on playing jazz full-time. For more than a decade Davis, 31, was an academic first and foremost, but after earning her PhD from Northwestern University in 2010, she began cultivating her talent in earnest—and it's blossomed spectacularly. Her first album as a leader, Live Work & Play, comes out early next month, and it reveals her to be one of the city's strongest and most exciting jazz saxophonists. Mike Allemana, longtime guitarist for the late, great saxophonist Von Freeman, plays in Davis's quartet on that record, and he's had front-row seats for her rapid development: "It seemed like every week she was advancing leaps and bounds."
Davis picked up the saxophone at 12 and was soon playing in her junior high jazz band. A teacher turned her onto Louis Armstrong, but it wasn't until college that Davis started to get her head around the depth and complexity of the music. "I played in my high school big band, but I didn't understand the improvising part," she says. "If I played solos I would write them out so I could sound good at that one moment."
---
Josh Evans (Trumpet)
Attended Litchfield Jazz Camp – 2000, 2001, 2002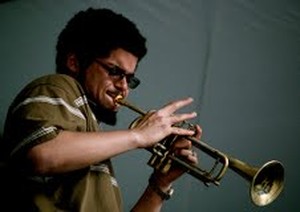 Josh Evans, born and raised in Hartford, Connecticut, started playing the trumpet when he was ten. His musical career was to be shaped by meeting and being mentored by the great Jackie McLean beginning at age 13. Performances with the late, great McLean included venues such as the Blue Note, Iridium, Regattabar, and the Bushnell Theatre. While attending the Greater Hartford Academy of the Performing Arts High School, Josh was selected for the All-American Grammy High School Jazz Band, won the Wynton Kelly Award and an Outstanding Soloist Award from Down Beat magazine. Josh has performed with many notables, including Cedar Walton, Rashied Ali, Benny Golson, Mickey Bass, Terell Stafford, Winard Harper, Shelia Jordan, Steve Davis, and Valery Ponomarev
---
Joel Holmes (Piano)
Attended Litchfield Jazz Camp – 2000, 2001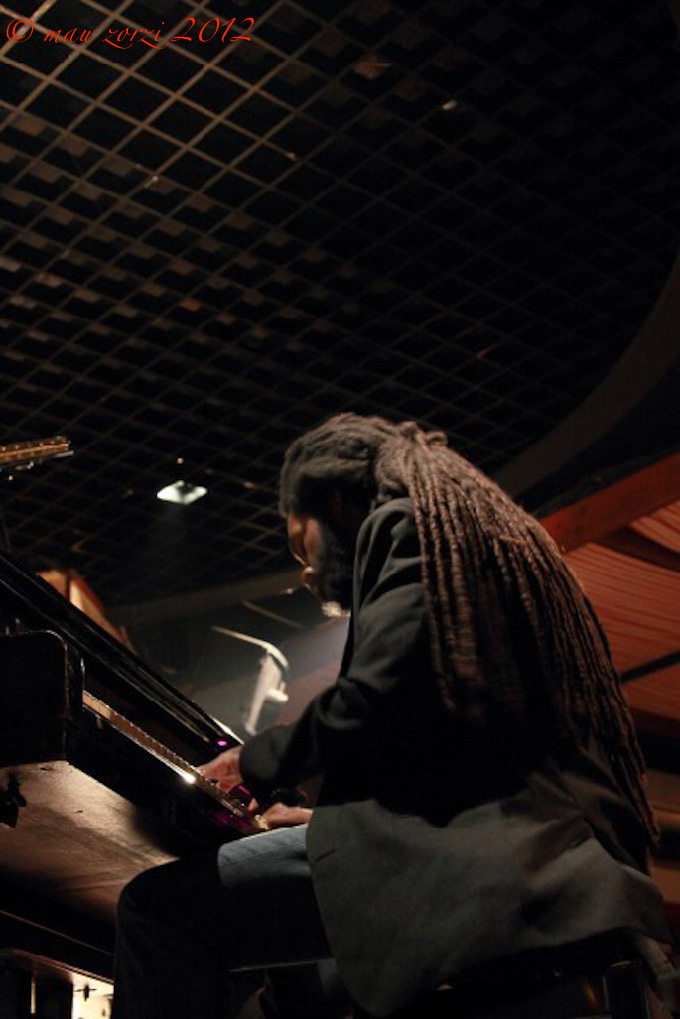 Joel Holmes began teaching himself tunes by ear at age four.  His family soon moved from Virginia to Baltimore so that he could attend the Baltimore School for the Performing Arts.  Now, at age 25, Joel is the Director of Jazz at his alma mater.  Later, he attended the Peabody Conservatory of Music at John Hopkins University where he earned a Bachelor of Arts in Jazz Performance.
Over the years, Joel has received numerous honors including a gold medal in the Act-so competition of the NAACP, and honorable mention in the John Lennon Songwriting Competition, a finalist in the fifth annual Independent Music Awards and an honorable mention in the VH1 Song of the Year Awards.
Recently, Joel has toured the world has toured the world with jazz trumpeter Roy Hargrove, vocalist Nnenna Freelon and has opened for quality acts such as The Temptations, The Manhattans, Regina Bell and Phil Percy.  With such a diverse educational and performing background, it is no surprise that his music blends so many styles and influences.  From contemporary jazz to gospel to funk to R&B, Joel can be heard fusing these genres and traditional jazz piano stylings such as Art Tatum, McCoy Tyner and Oscar Peterson.
---
Danny Janklow (Saxophone)
Attended Litchfield Jazz Camp – 2008, 2009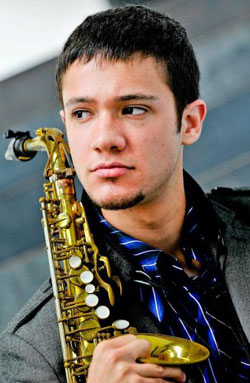 Born in Tarzana, CA in 1989, Danny Janklow was handed the saxophone at the age of 11. His life would soon change as he was introduced to the remarkable sounds of Charlie Parker, Cannonball Adderley, and John Coltrane. Just 2 years later, it was obvious to all that the music had chosen him. During his time at Agoura High School, Danny was recognized by Wynton Marsalis and the Lincoln Center Jazz Orchestra as the first-ever triple instrument "Outstanding Soloist" on tenor saxophone, flute and clarinet.
In 2007, Danny was awarded a full-tuition scholarship to Philadelphia's Temple University Boyer College of Music and Dance where he was mentored by saxophone legend Dick Oatts and incredible trumpeter Terell Stafford. In 2010, Danny won 1st place in the North American Saxophone Alliance competition held in Athens, Georgia. While living on the east coast, he frequently played at the Village Vanguard with the Vanguard Jazz Orchestra, the Kimmel Center, the Apollo in Harlem, and Dizzy's Club Coca-Cola in New York.
After graduating in 2011, Danny moved back to his home town to take the LA scene by storm. He rapidly became one of LA's most in-demand saxophonists and bandleaders. In 2013, he was selectively chosen as a semi-finalist to compete in the Thelonious Monk International Saxophone Competition in Washington D.C.
---
Daryl Johns (Bass)
Attended Litchfield Jazz Camp – 2008, 2009, 2012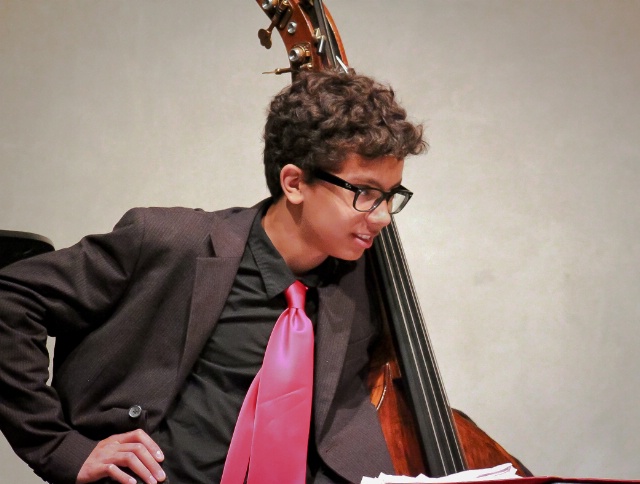 Daryl Johns, a rising jazz star, is a 15 Year old bassist who has been featured on a MY9 TV segment in 2009 titled "12 Year Old Jazz Prodigy" & featured in the NJ Bergen Suburbanite Newspaper in a full page article titled "Big Time Player, Local Jazz Prodigy Makes His Mark."
He was a semi-finalist in the 2009 Thelonious Monk International Bass Competition and came in honorable mention. T.S. Monk wrote,
Daryl was awarded "Best Soloist" and "Best Original Song" in Downbeat Magazines 2010 33rd Annual Student Music Awards, "Best Soloist" in the 2010 & 2011 Mingus Festival. 2011 &2012 High School Grammy Jazz Ensemble, 2011 & 2012 tours with Thelonious Monk National Performing Arts HS All-Star Jazz Sextet. West Coast Tour and Monterey Jazz Festival with 2011 Next Generation Jazz Orchestra.
Daryl was WBGO's Jazz Star of Tomorrow at the 2011 Champions of Jazz, Lincoln Center. He recently was filmed playing and talking with Chick Corea for a segment in a film documentary celebrating Chick Corea's 70th Birthday in NYC.
Daryl attends the Manhattan School of Music Pre-College and plays in the Award winning Big Band, Improv Ensemble & Double Bass Ensemble & has also attended Vail Jazz Workshop, Centrum Jazz Workshop, Skidmore, NJPAC Jazz for Teens, Jazz House Kids & Litchfield Jazz Camp. He currently studies classical bass with Linda McKnight.
Performances include: Randy Brecker, Joshua Redman, Donny McCaslin, Joe Lovano, Jimmy Owens, Dave Liebman, Geoff Keezer, Benny Green, Carl Allen, Jay Leonhart, Warren Vache, Les Paul, Bucky Pizzarelli, Valery Ponomorev, Larry Coryell, Bernie Williams, Michael Wolff, Steve Johns & Mike Clark.
---
Dana Lauren (Vocalist)
Attended Litchfield Jazz Camp – 2006, 2007, 2008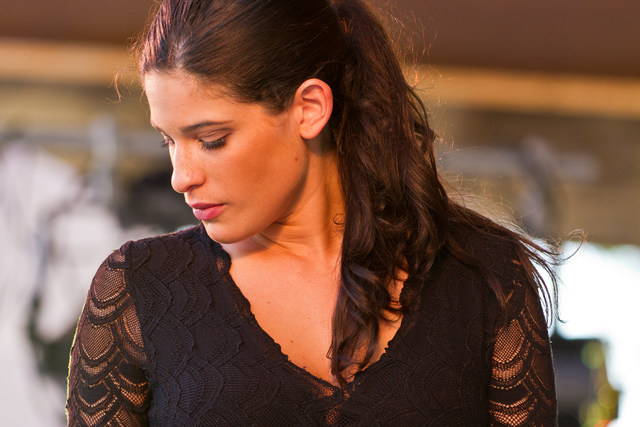 Being chosen as a semi-finalist in the prestigious 2010 Thelonious Monk International Jazz Vocal Competition is just one of the highlights of Dana Lauren's rising career.
Her latest CD "It's You Or No One"(2010) has received rave reviews from some of the top jazz publications in the country. It brings together a stellar group of musicians including Joel Frahm on tenor sax, Manuel Valera on piano, Will Graefe on guitar, Luques Curtis on bass and Jake Goldbas on drums. The extraordinary Christian McBride joins her for a bass/voice duo of "On the Sunny Side of the Street".
"Lauren is, at the tender age of 21, a true jazz stylist." – Jazz Times
A chance meeting with Arturo Sandoval at the 2006 Newport Jazz Festival provided Dana with opportunities that any young performer could only dream about. In July 2007 Dana recorded her first CD titled "Stairway to the Stars" produced by and featuring Mr. Sandoval. Dana has had the honor of sharing the stage with Mr. Sandoval at the Arturo Sandoval Jazz Club in Miami, the New Orleans Jazz and Heritage Festival, Birdland, The Blue Note and Iridium in NYC and Sculler's Jazz Club in Boston.
---
Godwin Louis (Saxophone)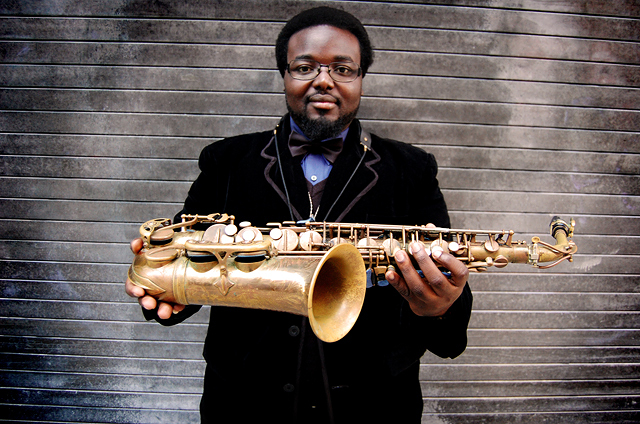 Godwin Louis, alto saxophonist, was born in Harlem, New York and began playing saxophone at age nine.   Godwin grew up in Bridgeport, Connecticut and Port au Prince, Haiti.  Godwin is a recent graduate from the prestigious Thelonious Monk Institute for Jazz Performance class of 2011.
Godwin was one of the six fellows selected to be in the Thelonious Monk Institute for Jazz Performance, a full-scholarship graduate-level program at Loyola University New Orleans, where, under the artistic direction of Terence Blanchard, he and his colleagues honed their skills at performing, teaching and composing.  They gave concerts, clinics and private lessons in Louisiana, the Mississippi gulf coast as well as around the globe including, at the Basilicata per New Orleans Jazz festival in Matera Italy and in Beijing, China.  Through the Institute, Godwin has studied and performed with Herbie Hancock, Dee Dee Bridgewater, Clark Terry, Ron Carter, Jack Dejohnette, Jimmy Heath, Barry Harris, David Baker, Emeline Michel, Danilo Perez, John Scofield, Jeff "Tain" Watts, John Patitucci, Steve Coleman, Dick Oatts, Jason Moran, Nicholas Payton, Don Sickler, Chris Potter, and artistic director Terence Blanchard.   While in the Institute, Godwin was fortunate to study composition privately with the legendary composer, pianist and New Orleans native Roger Dickerson.  Godwin also had the opportunity to play and record with world-renowned clarinetist Dr. Michael White.  His playing is featured on Dr. Michael White's latest recording Adventures in New Orleans- Part 1 released onBasin Street Records.
As an undergraduate Godwin studied music education and received his degree in Professional Music with an emphasis on education at Berklee College of Music.   While at Berklee, Godwin had the opportunity to perform and record with Terri Lynn Carrington, Cindy Blackman, Ralph Peterson Jr., Delfeayo Marsalis, Phillip Bailey, Gloria Estefan, and Billy Preston.  Godwin studied with Frank Tiberi, Jim Ogdren, George Garzone, Joe Lovano, Ed Tomassi, Dave Santoro, Hal Crook, Bill Pierce, Herb Pomeroy among others.   Godwin was the recipient of the Elvin Jones award and was selected by the college to perform at numerous music venues and festivals worldwide including: the JVC Festival (New York), Blue Note (New York), Monterey Jazz Festival (California), Trinidad and Tobago Steelpan Jazz Festival, Nancy Jazz Pulsation (France), ArtSpring Performing Arts Center (Salt Spring Island, British Columbia), Sky Church – Experience Music Project/Science Fiction Museum (Seattle), LV's Uptown (Portland, Oregon), San Jose Jazz Festival (California).
---
Danny Mekonnen (Saxophone)
Attended Litchfield Jazz Camp – 2000, 2001, 2002, 2003, 2004, 2005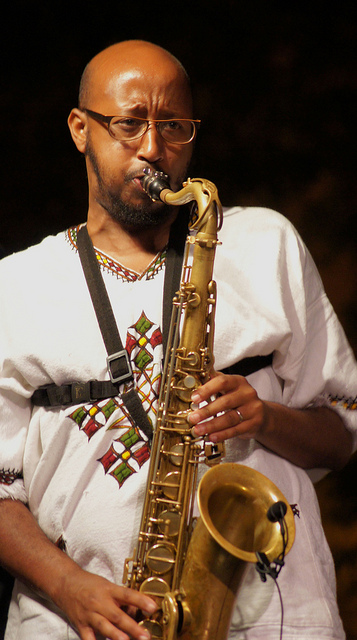 Growing up in Texas as a first generation Ethiopian American, Danny Mekonnen often heard Ethiopian saxophone melodies and the sounds of other traditional Ethiopian instruments and vocals, including the East African one-stringed fiddle, 5-string lyres, and shrill and vibrated voices. By the time he was an accomplished saxophonist, Danny sought out master Ethiopian musicians to learn to play the traditional instruments of his Ethiopian heritage. This includes the washint a four-holed bamboo flute played by shepherds in the Ethiopian countryside and the imbilta, a long single-note flute is used in groups of three musicians playing in "hocket," a style of composition where the melody notes are given to individuals alternating notes and rest. Living in Ethiopia in 2007, Mekonnen studied with Getachew Mekuria, a saxophonist who pioneered the techniques of Ethiopian performance, adopting the fast vibrato and virtuosity of the washint and mesenko, a one-stringed fiddle.
In 2006, Mekonnen founded Debo Band, an Ethiopian music collective melding traditional East African polyrhythms, American soul and funk, and the layered instrumentation of Eastern European brass bands, to form a sound that is a jubilant reinvention of music that once rocked Ethiopia's capital, Addis Ababa. He also performs for events within the Ethiopian community, such as weddings and adoption community gatherings for American parents of Ethiopian children.
---
Albert Rivera (Saxophone)
Attended Litchfield Jazz Camp – 1999, 2000, 2001, 2002, 2003, 2004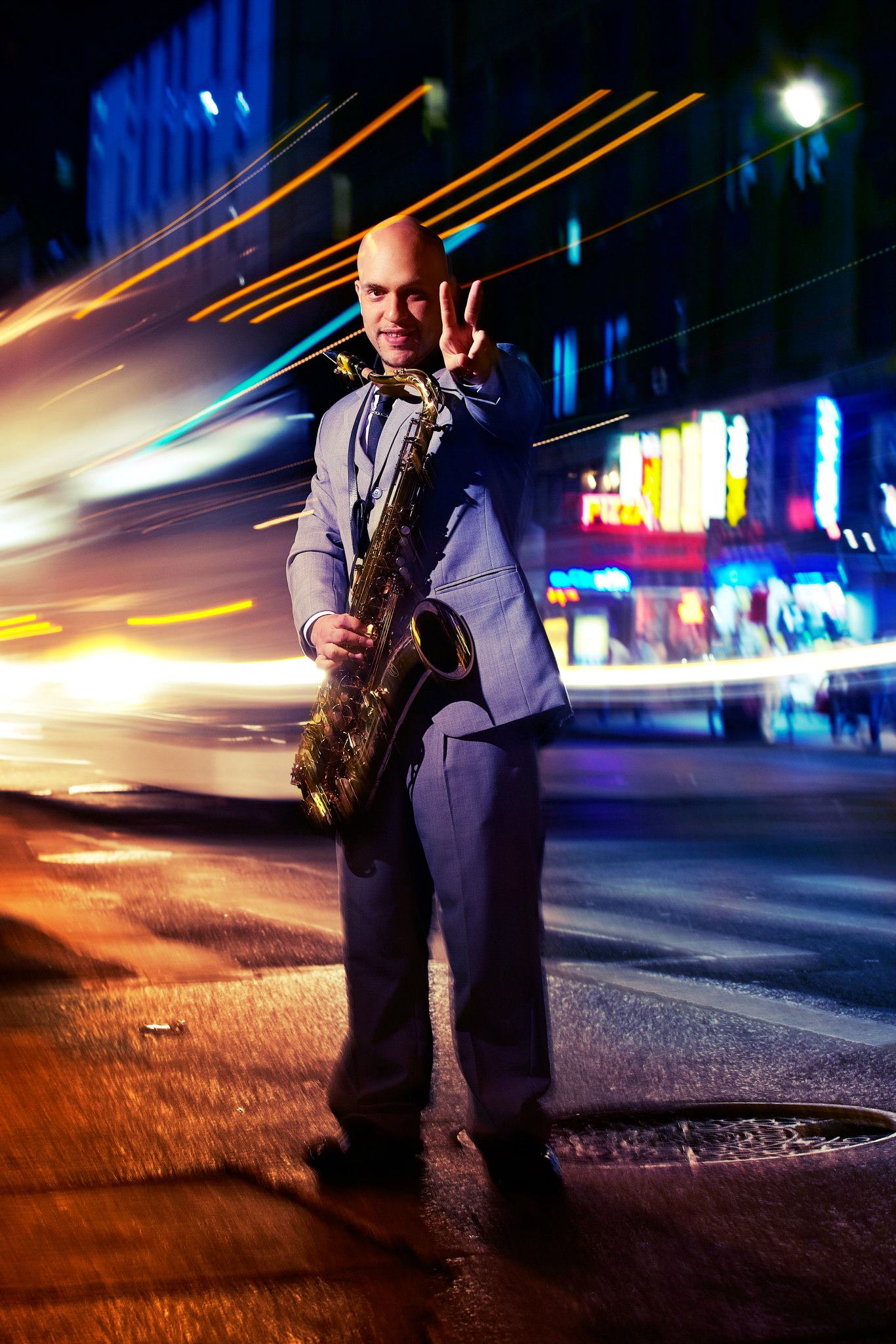 Contemporary, smooth, and eclectic – three words that just begin to describe Albert Rivera, "a modern Jazz Messenger" with one of the most exciting and sought-after saxophone sounds in today's jazz scene. His first album, Re-Introduction (Turnaround Records), was warmly embraced by critics, who call Albert and his two band mates, Luques and Zaccai Curtis, "three young artists who are part of the next wave in this jazz ritual." His latest album, Inner Peace, came out in August, 2010 on Turnaround Records.
Inner Peace will be the latest accomplishment in Rivera's acclaimed musical career. Born in Bronx, NY, Albert began playing as a classical musician at age ten, and he made his first appearance at Carnegie Hall two years later. When studying at the selective LaGuardia High School for Music and Arts program, Rivera discovered jazz, and he was instantly hooked. "I was speechless the first time I heard Charlie Parker and John Coltrane."
Rivera's distinct style has been greatly influenced by classic jazz greats like Coltrane and by more contemporary sounds, like those of Joshua Redman. "When I first heard Elastic by Redman, I knew it was only a matter of time before I adapted it to my own voice. In my music, when composing new sounds, I use the modal aspect of John Coltrane's works as a creative launching pad, mixing in a variety of grooves and rhythms. My music can make you move, it may make you think, and it definitely will evoke your emotions."
---
Evan Sherman (Drums)
Attended Litchfield Jazz Camp – 2009, 2010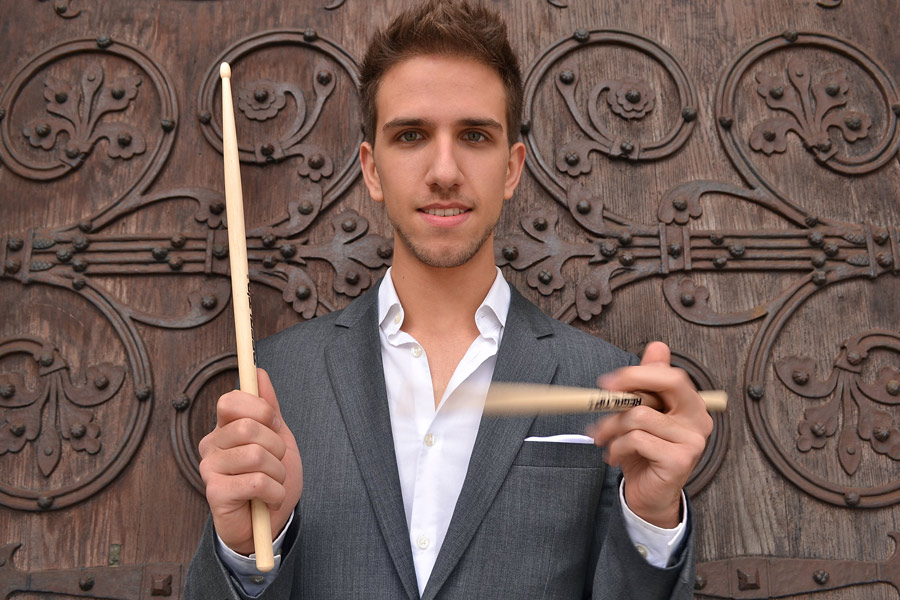 21-year-old drummer Evan Sherman, a native of New Jersey, has already played with the world's greatest musicians, including James Moody, Branford Marsalis, Wynton Marsalis, Roy Hargrove, and he was recently hired by Jimmy Heath and Ron Carter to play drums in their bands. He continues to tour with pianist Cyrus Chestnut and the Dizzy Gillespie All-Stars, with whom he performed at Tchaikovsky Hall in Moscow in 2011. In the past year, Evan has also travelled to Doha, Qatar and Shanghai, China as a Jazz at Lincoln Center performer, teacher, and ambassador of music. In October 2014, Evan will be returning to Moscow, Russia with his partner in crime and "time", bassist Russell Hall, with whom he is honored to share today's new movement in jazz around the world.
When not touring the world, Evan is based in New York City, where he has performed at The Blue Note, Symphony Space, Jazz Standard, Jazz at Lincoln Center, Small's Jazz Club, Smoke Jazz Club, Flushing Town Hall, Le Poisson Rouge, among other notable venues. Besides being a sideman, he is also leader of the Evan Sherman Big Band: a multi-generational ensemble of the most talented up-and-coming jazz musicians alongside veterans of the industry. The band performs monthly at Jazz at Lincoln Center's increasingly-popular "Dizzy's Dance Party", where people of all ages and cultures congregate, dance and socialize into the wee small hours. Evan believes that while jazz is an art to be listened to intently, it is deeply rooted as a social music.