SAXOPHONE & FLUTE
Claire Daly's first CD as a leader, "Swing Low" (1999) is in the William Jefferson Clinton Library as a CD significant to him while in office.  She has won Downbeat Magazine "Rising Star" 8 times in 10 years.  Her most recent CD, "Baritone Monk" hit number one on the CMJ Jazz Charts, and rose to number nine on the Jazz Week Charts. It is sponsored by the North Coast Brewery, makers of Brother Thelonious Ale and all proceeds from the CD go to the Monk Institute for jazz ed
ucation.  She was the Jazz Journalist Association's Baritonist of the Year in 2005.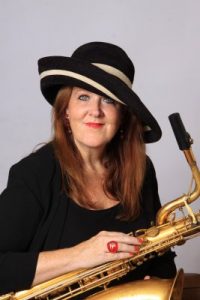 A veteran Litchfield Jazz Camp teaching artist (13 years), Claire heads the Litchfield in NY combos during the school year, as well as teaching at Jazz at Lincoln Center MSJA and privately in New York City. In 2011, she premiered her "Nothing to Lose" CD in Juneau, Alaska. The CD features her on both sax and flute in a work she wrote with Steve Hudson to honor her second cousin, Mary Joyce, who made a 1,000 mile solo dogsled trip from Juneau to Fairbanks in 1935-1936. She has 8 Cds to her credit and tours with her own quartet, as well as performing as a sideperson.
Artist Website

Listen to this Artist